The Philadelphia Tribune
By Damon C. Williams - December 19, 2014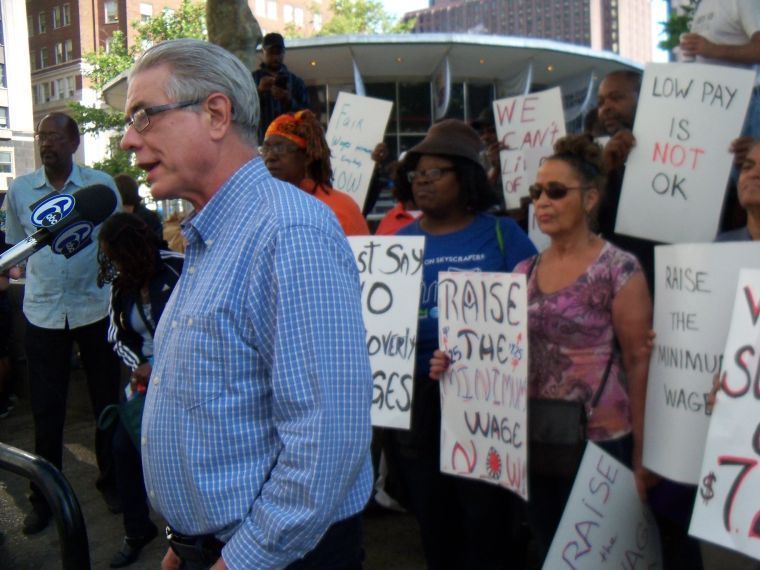 Philadelphia Unemployment project director John Dodds leads a recent rally to raise the minimum wage.
Photo courtesy Raise The Wage PA
The city's employment rate — 6.6 percent — is the lowest its been in more than six years, and the Nutter administration was quick to pointed out its job–spurring initiatives are netting positive, tangible results.
"This news is just the latest signal that confidence in Philadelphia is growing, investment is being made in our city, and more and more Philadelphians are finding work," Mayor Michael Nutter said. "My administration strives every day to make Philadelphia more business friendly, to attract new residents and companies, and to continue the growth that we have seen in recent years in neighborhoods across this city."
According to the U.S. Bureau of Labor Statistics, the unemployment rate in Philadelphia declined to 6.6 percent for October 2014, representing a 3.3 percentage point drop from October 2013 and the lowest unemployment rate since April 2008.
In addition, the number of jobs in Philadelphia increased by 8,500 from September to October to 672,500, and the number of Philadelphians employed is at its highest point for an October since 2000.
Deputy Mayor Alan Greenberger said the improved employment numbers also reflect the city's commitment to job creation, and pointed to the multi–million dollar projects and an ongoing development occurring throughout the city.
"With new businesses moving into Philadelphia and more to be announced soon — and an unprecedented level of construction in the city with more than $8 billion in projects completed since January 2014, under construction or soon to start — the signs are certainly positive for the economy in Philadelphia," Greenberger said. "As we move into 2015, we are excited to announce a range of new major projects for Philadelphia and to welcome even more companies into the city from around the country and the world."
While any decrease in the unemployment rate is good news for the city and its economy, those involved in the daily task of job creation and protecting the most vulnerable and at-risk workers offered a more muted celebration.
Councilman W. Wilson Goode Jr. — as chair of two influential city council committees, including the Committee on Commerce and Economic Development — said attention should be paid to the glut of poverty–wage jobs being created.
"The drop in the unemployment rate in Philadelphia mirrors the national trend," Goode said. "Unfortunately, many of the new jobs across the nation are lower–wage jobs compared to the jobs lost during the national economic recession. Locally, we are concerned with job quality so we have enhanced our job creation tax credit to support living wages jobs in 2015."
Officials with the Philadelphia Unemployment Project — which since 1975 has organized the poor and unemployed to fight for economic justice — concede the overall employment is getting better, as the declining rate shows, but like Goode, believe more attention needs to be paid to the number of minimum–, low– and part–time jobs created and subsequently filled.
"Things are better but many of the jobs available are low wage and many are part time," said Philadelphia Unemployment project director John Dodds. "We have seen a particular problem with older workers, particularly older women workers.
"The recovery has been based on lower paying jobs nationally, with over 40 percent of new jobs being found in retail, fast food and home health aids," Dodds continued. "It is very important that a substantial increase in the minimum wage be enacted as soon as possible to make these low wage jobs more family-sustaining."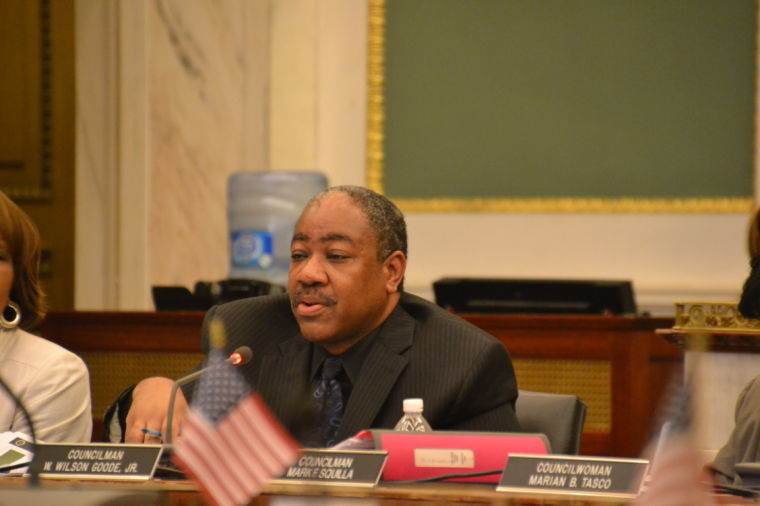 Councilman W. Wilson Goode Jr. addresses school district officials during a Finance Committee hearing.
Photo courtesy Philadelphia City Council/Zhengyuan Bi
This email address is being protected from spambots. You need JavaScript enabled to view it.
(215) 893-5745